To build up my self-importance, I've always told this story about my name: Mary Katherine Ann (Baker) Lawson. My very young parents couldn't agree on Mary Katherine or Katherine Ann. My mom's family had about a hundred generations of Mary Margaret, Margaret Mary, etc. Since she was abandoning the Margaret part, she wanted to at least, maintain the Mary. My Father's mom was Mary Ann and I assumed he wanted a bit of name-sake for her. They both liked Katherine and they settled on the triple name. A little unusual for this culture, but I've always felt like it made me stand out. My parents continued the tradition of calling their kids my their middle names: Mary Katherine Ann became Kathy, Raymond Stephen became Steve, Alice Christine became Chris (she's most grateful). Then there's Tim, he's a whole nother story.

Today comes the snail mail with a great hand written letter from my Dad. It appears my name-sake is far more glamorous and interesting than I could have ever imagined. Here is that letter, verbatim, copied with Dad's permission. The question marks are things I don't understand. There are notes at the bottom.



Hi Kid,
Had a lovely time Christmas Eve! Each year gets better. I have one of those thoughts floating around in the back of my mind. You know, one of those that would mean nothing to anyone else and therefore shouldn't be suffered upon others.
The "real" drive-in was not the "Mel's" as shown in American Graffiti. Rather, it was a place on the SW corner of Ocean Ave and Glenrossy Blvd. It was called Tic-Toc. Children and lesser people sullied the place during the day, but at night is when the REAL people came in droves. Tic Toc's was a big place with enough room for maybe 60 to 75 cars and they all came! Looking back, we were like peacocks displaying our feathers and not just the guys and their cars, but the girls too, in their poodle skirts complete with coordinated sweater ? puppies. They were all too eager to place and secure our orders from the long row of service windows. They tittered and cavorted with each other while the guys studiously ignored them for the most part and talked about the serious matter of wheels. I would give anything to walk you through that parking lot.
Our crowd was a real mix. Sonny Boca's dad's 50 Ford. Frank Ferrio's 51 Merc. My 56 Ford. Larry McCarthy's 56 Victoria (a real ? benet) and Vince Millers 54 Victoria which had a big engine and was very fast. It was this car that Larry was riding when he lost his life. I was married to your mom by then. George was Larry's step dad and had built and installed that engine in Vince's car. (*see side note).
Another car that frequented Tic-Toc's was a pink and white 55 Crown Victoria. To my memory, I never saw a guy in or about that car, always one or two of the girls. The car was always spotless and parked away from the crowd. Once in a while a guy would gather his courage and approach, not often though, because everyone was watching and didn't have the guts to get shot down in front of their peers.
I remember the girl was a bit more disguised than the rest, maybe even aloof. But in our eyes, she was the Grand Poobah-ette of all the good that represented girl hood.
Oh, and I would be remiss if I didn't mention what was painted in a very delicate pink script, up on the center molding on that rear fender in a slight arch: It was the name Kathy Ann.
Believe no other story about how I came up with your name, kid. These are the facts.
I ask you ... how freakin cool is THAT????


Notes about this:
Vince's Ford (the one Larry was killed in) Had a magic C3 test engine, secured from Shell Oil. It was a 312 with headers and 4 barrel carb. Larry's step dad, George, put that engine in Vince's 54 Vic and "it was a screamer, insanely fast". Larry was shot gun and he and Vince were a couple of blocks away from the Tic Toc, on a residential street that had no parking in the road, perfect for drag racing. Vince didn't make the curve at the end and hit a phone pole. Dad talked about this for a while. He felt very close to George, who never got past this event.



Tic-Toc Drive-In (SE corner of Ocean and Cayuga)
—One of just a handful of SF drive-ins in pre-McDonald's days, and among the best in town when one of the few other choices was Burke's at the corner of Market & Church. Circa 1964, there was a fatal shooting of a high school student at Tic-Toc, and this location was immediately declared to be off-limits to most teens by their parents. The site later became a child-care facility. (text copied from
http://www.outsidelands.org/streetwise-ocean-ave.php
.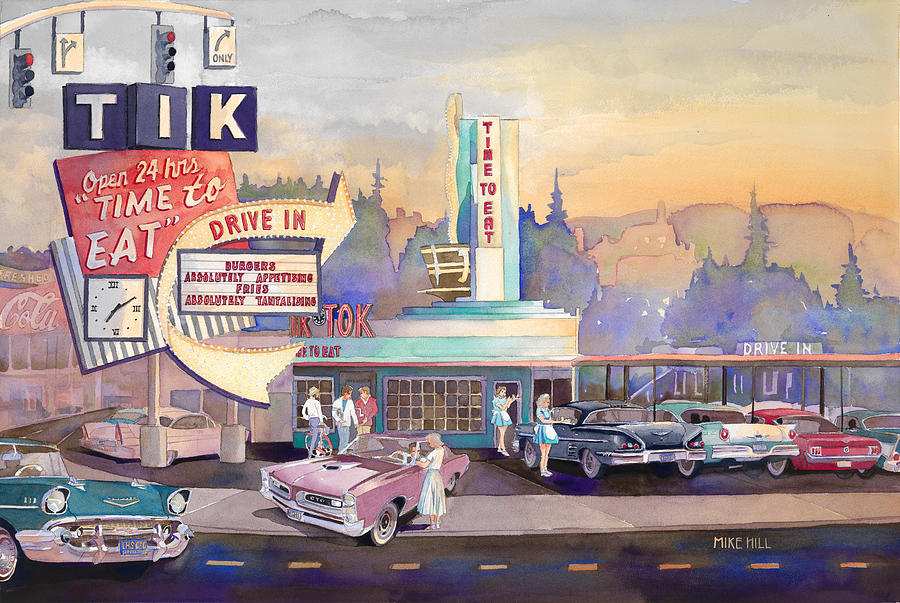 Artwork from:
http://fineartamerica.com/featured/tik-tok-drive-inn-mike-hill.html
Could this be the Kathy Ann?